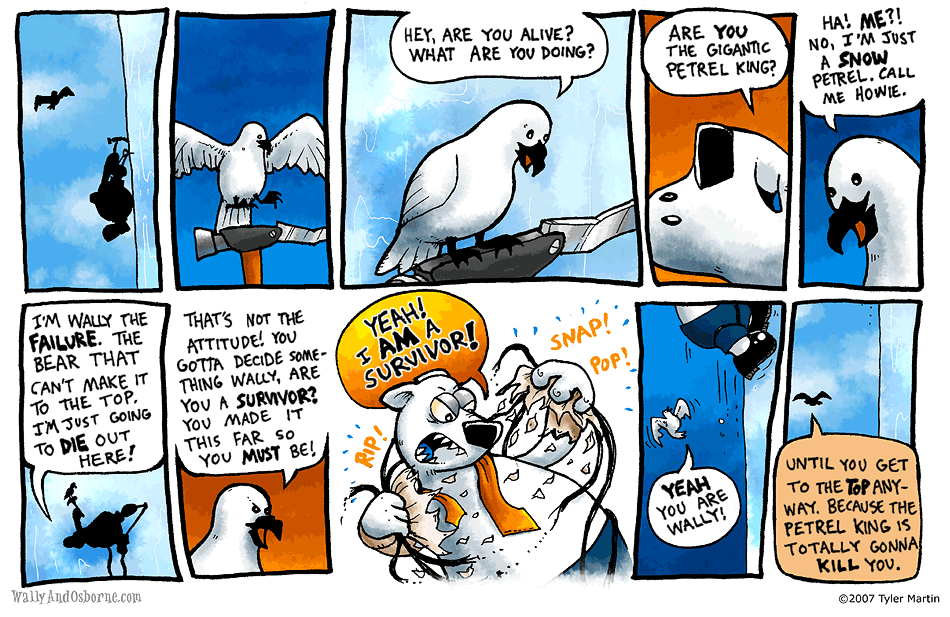 Previous
Next
Archive
Search Archive
:

Quest For the Beak: Part III
Mar 26, 2007
—
So yeah, I left Wally hanging for a month, literally. And Osborne has been pretty quiet without his beak. My apologies for the delay in the comic, as you know, I went on vacation, it was a week and a half, and I returned to several projects.
The original art for the last two comics is available here.
All the Stuff I've Been Up To…
I'm currently illustrating a couple new comics, one takes place in the world of Lacrosse, called The Check Family, if you are like me, you might not be too familiar with the subject or the jokes, but I'm having fun learning and handling the art duties. It's updated three times a week and is also syndicated at LaxPower. The other comic is for the official NCAA blog, Double-A Zone and is updated weekly.
I've also been doing illustrations for a publisher of school workbooks (actually they are in comic format), so some of you schoolkids might even get to see some of my artwork there in the future, as well as being helped in learning math and such. Plus I've just picked up a project in which I'll be doing some interactive Flash games and animation at a government website to help teach kids about health.
In other good news, Funbrain has signed on with Wally & Osborne again, and the comic will continue to run there as well as here. To keep regular updates they will continue to run repeats for a while until a good buffer is built up to start running new ones 5 days a week. This is added motivation for me to get my schedule back to that as well.
I've also recently helped update buddy Ryan Sias' website to the ComicPress theme for WordPress I created. So he's now got an automated archive, an RSS feed and commenting. This week he is running a best of week, so go check it out at Silent Kimbly dot com. I've also been hired on to build a couple other websites for some comic creators with new stuff coming out. As well as trying to finish the final release of the new ComicPress 2.0 theme for publishing Webcomics with WordPress. Busy busy.
Did an interview with my other Ryan buddy, Ryan Estrada, about his new Web reality show where he gets sent on crazy, sometimes dangerous missions in India. You can read it here or start watching the episodes over here.
My vacation was packed with stuff, one of those ones you come home from needing to take a rest from it, rather than resting though, I just came home to a ton of stuff to do, but I'm getting caught up and planning on getting the Wally & Osborne updates back in gear. Looking for them to be very regular again once we finish off the beak story.
Glad to be back! Missed you guys.