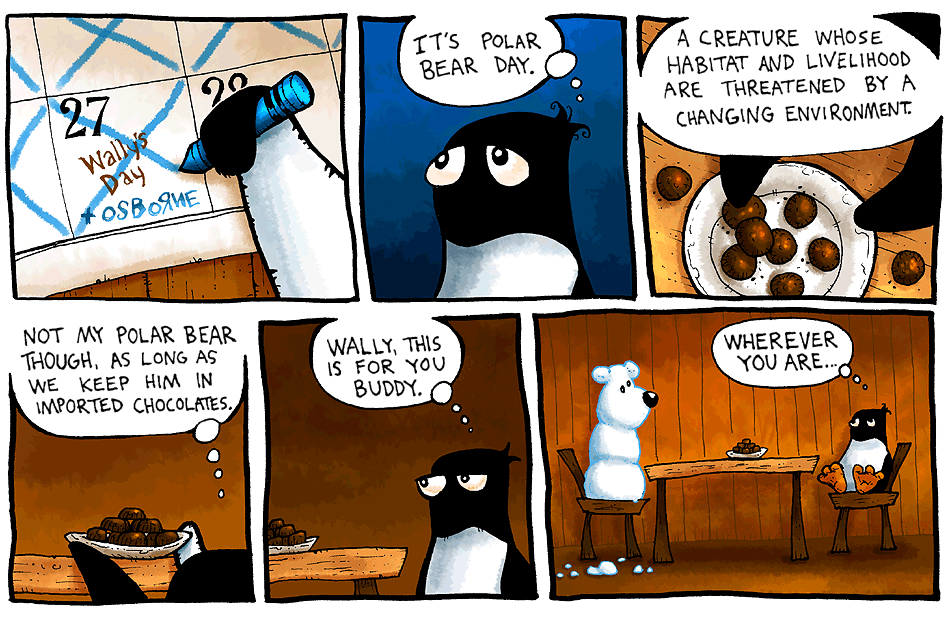 Previous
Next
Archive
Search Archive
:

Quest For the Beak: Part II (Polar Bear Day)
Feb 27, 2007
—
It's already International Polar Bear Day again. Yay for Polar Bears! Osborne has to spend this one alone while his big buddy searches for his beak. I see those tears guys, don't be ashamed. Hopefully Wally finds it soon though… because it's kind of morbid drawing Osborne without it.
Updates are a little slow right now. It's more time on these and I've been busy trying to finish up some projects to go on vacation next week. After that it will be my main concentration to get the updates regular again, and yes, get the book finished. It will be a nice break, haven't been on vacation in a while. Going to try and go to Sea World as part of the vacation, check out the latest their "Arctica" exhibit area has to offer, maybe get some good inspiration.
I want to thank everyone again who has purchased original art, such support of the comic is really keeping it at the forefront of my projects and hopefully some day it will be my full-time project. Also thanks to those that have run ads, especially the Running In the Halls ad up there currently running, go check that comic out, it's a lot of fun, it stars a teacher and is actually written by a teacher.
The original art for this comic is available on the Original Art Sale page.
And you might want to revisit the Polar Bear Day comic from last year too. Can't believe it's already been another year.
UPDATE:
March 03, 2007
I really wanted to get the rest of this storyline posted before vacation, but I've had a lot of projects to finish up right up to my departure and wasn't able to. I'm really looking forward to it and having fun drawing these, but I'll have finish it up when I get back, see you in a week.