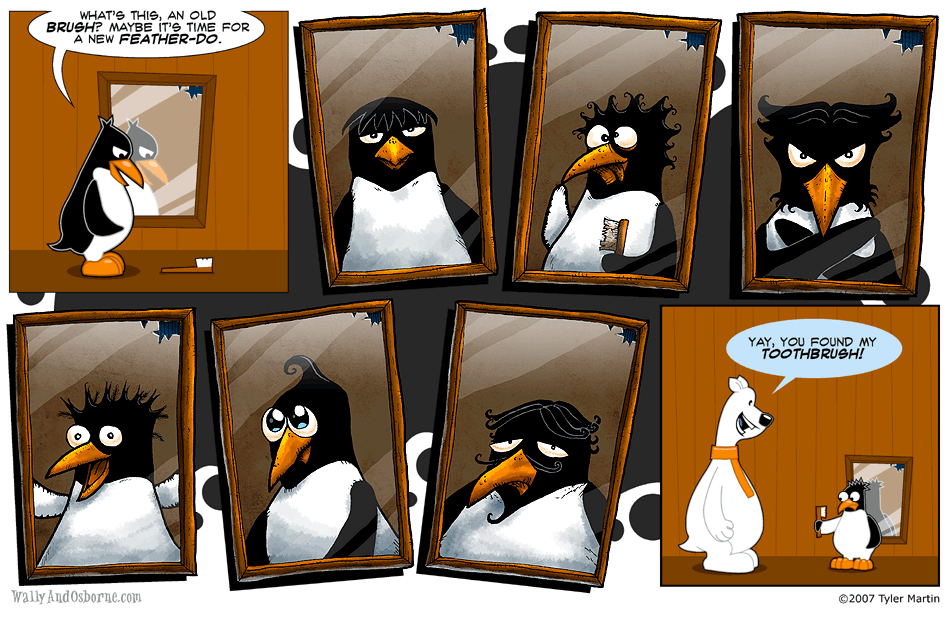 Previous
Next
Archive
Search Archive
:

A Penguin, A Brush and A Mirror
Jan 29, 2007
—
I would be lying to tell you that I don't still, to this day, love to brush my hair in crazy styles in front of the mirror. It seems like you can magically transform into all these crazy characters just by styling your hair this way or that.
I work at home though, so most of the time my hair is just kind of messy and crazy. My wife calls it my "I'm With Busey" look. The show with the crazy Gary Busey and his crazy hair, actually mine looks just like that at this very moment, basically the same color even.
Get All Sorts of Wally & Osborne Stuff!
I got busy today making all sorts of stuff available for you, as well as doing today's time consuming comic. First of all is the original art for today's comic, it is available as three different pieces, at the rate the art has been going this will at least give a few people the chance to own a Wally & Osborne comic original, unless of course someone buys the whole set, as always it is first come first serve.

Second, everyone seemed to really like the Can Shakin dance scene with Wally & the Chinstraps (the original art for it was snatched up pretty quick). But not to worry, it is now available on both T-shirts and as Wallpaper per the request of several of you. See, there's even something for free, the wallpaper is available in all five of the most popular resolutions so one should be perfect for you. Oh also on the T-shirt, order today and get free shipping to USA or Canada, use coupon code FREESHIPPING07 (just good for orders by January 31st).
Also Christina, I enjoyed your dancing can shaking Wally rendition, nice job, very cute. 😉
And I'm off to bed…